Sports Performance Training at Premier Upland Facility
Improve your performance and decrease your risk of injury with performance training at Life Performance Enhancement (LPE). Our sports performance training programs at our Upland facility utilize top-of-the-line exercise equipment with innovative workouts to engage your muscles in new, challenging ways. We focus on providing individualized training based on your goals and the demands of your sport or lifestyle.
Our Programs Focus On:
Rehabilitation
Mobility
Flexibility
Body Awareness
Agility
Strength, Power, and Speed
Nutrition
Physical Therapy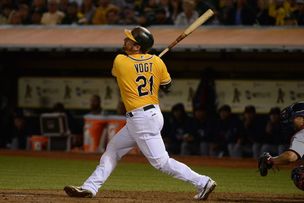 Stephen VogtOakland Athletics Baseball Club
"I began training with LPE owner Derek Wohlers while a senior at Azusa Pacific University. All facets of my athleticism continue to improve each off season through LPE's training methods and philosophies. I would not have had the success at the Major League level I've been blessed with if LPE was not involved."
High Performance Training for Sports
At Life Performance Enhancement, our certified personal trainers focus on high-performance training in La Verne, Claremont, San Dimas, and the surrounding area for sports of all kinds. We createour programs to improve your performance by building strength and power, while also identifying and addressing areas of weakness and instability to help decrease the potential for injury. By training movements for sports and life, LPE focuses on creating a greater functional movement to support the physical demands athletes face in sports—in addition to the physical demands of everyday life. Sports Performance programs offer integrated programs supported by teams of specialists.
Our sport-specific training can improve the on-field performance of any athlete. Customized programs used by Certified Sport and Conditioning Specialists, are tailored to the exact demands of the sport as well as the position you play. To get started with personalized spots performance training, call us today to schedule a free consultation session today.
Programs We Have Worked With